Hi Paul,
The band was great.  Thank you.  As you promised, we had dancers on the floor all evening.  You may be getting other invitations to play in La Crosse.  We hope the band had a tenth as much fun as we did.
Best regards,
Dan Gelatt
November 13th, 2016
The Paul Mabin Band,

We just wanted to say thank you for traveling to La Crosse to play at our wedding…you are truly amazing! The songs, instrumentals and vocals were outstanding. You kept the dance floor full all night! Many guests told us you were the best they had ever heard at this type of event. You were so easy to work with, and learned our first dance song in a matter of weeks! Thank you so much. You really made the reception a party!

Love, Dan and Brittany Hensgen
August 31, 2015
Hi Paul, 
I wanted to formally thank you for your exceptional performance at our 12/7/13 wedding reception at Wilder Mansion. The song selection and enery were perfect - you had me not wanting to leave the dance floor! So many of our guests told us it was the best wedding band they have ever heard.
Thanks for helping to make our wedding such a wonderful celebration!
Susan Kienzle (Teegarden)
Hey Paul, 
Wow you guys rocked the house!!! Everyone has been talking about how much fun they had dancing to your music and how amazing the band was. One of our favorite moments was when you came out on the dance floor and we sang "Shout".  Great job with the song choices as well. We have given a few people your phone number already. 
We hope to keep in touch with you and once again thank you for making our wedding and the atmosphere so special!
All the Best,
Mandi and Bane
August 10, 2013
The Paul Mabin Band
ph. (847) 217- 4609
Paul@paulmabinband.com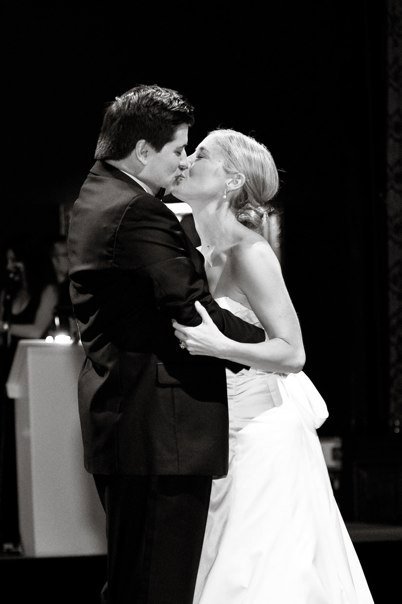 Abby Dean
I found Paul Mabin and his band through an internet search, and it has to be one of the best search results I've ever had. Paul is phenomenal to work with...easy to get a hold of, ready to accommodate, easy going, and the picture of professionalism. After our first conversation I was sure he was the one I wanted to hire.The band played an event for us which is in it's 8th year, and I've never seen the dance floor that packed at any of the previous years. I had suggested to go heavy on the mo-town in the first set, and that's exactly what they did, and they did it well. They played all the genres very well, in fact. We had so many compliments from our guests (many of whom have attended the event for 8 years). The Paul Mabin Band was the perfect addition to our event this year.I was so pleased in fact, that as soon as they finished their final set, I asked Paul what he and his band were doing next year at the same time...He sent me a contract that next Monday and we've already booked them for February 2013. I could not recommend Paul and his band more. They truly are the best I've ever worked with.
Added on: 03/22/12

Janet & Gary Ellis
Paul was recommended to us and promptly responded to my inquiry about availability. We hired Paul to arrange all the music for our son and daughter-in-law's wedding at the Ivy Room. Paul brought in a string quartet to play the ceremony and cocktail hour, a jazz trio for the dinner, and his band performed at the reception. The dance floor was packed all night, and everyone enjoyed the band and vocalists. People who "never dance" were dancing! Friends continue to tell us how much fun they had at the reception. Our sincere thanks Paul. You are one talented musician, vocalist, and composer.
Added on: 10/02/11

Nina and Barry Summers
Paul was the best highlight at the wedding.... very accomodating.... we would exchange emails about what kind of songs I like and don't like..... and sure enough, he played the song that me and my husband truly loved while we were being introduced... (lovely day by Bill Withers). HE LISTENS TO WHAT YOU WANT or what you want the playlist to be..... His voice sounds identical to the singer on the radio. no doubt they are the best band I've encountered. All my guest were amazed by his voice and how excellent they performed. I do hope to work with them again......Thanks PAUL FOR MAKING OUR WEDDING SPECIAL!!!!!!
Added on: 09/20/11

Judy Eisenstein
Hi Paul,Gary, Alyssa, Ben and I want to thank you and the band for an outstanding performance last Saturday. We had so much fun, and as you know, rarely, if ever stepped off the dance floor. From the pre-ceremony music through the last song at the end of a way too short evening, you not only "got the party started" but helped to make it such a success. Alyssa says if she had to do it all over again, she wouldn't change a thing. Just like the song the bride and groom entered to, you helped make our dreams come true.We wish you much success and hope that we'll be able to enjoy partying with you again.Warmest regards,Judy
Added on: 05/26/11

Jim and Maureen
The Paul Mabin Band was awesome the night of my wedding. Our guests came from all over the United States as well as Ireland. We had all age groups. Everyone was dancing all night!!! No one wanted the night to end. It was a perfect mix of music that sounded fantastic!! Any and everyone would be happy with this band's performance. Thank you for making my night forever memorable and fantastically fun!!!
Added on: 02/13/11


Jeff and Janice Sanes
PaulThis is the second wedding you've done for us and we wouldn't have it any other way. You're like part of the family, which makes it an even better experience working with you. It is always easy and pleasant working with you, and you also handle everything with aplomb. I know this was more difficult working with a bride and groom who live out of town and couldn't come in, but you kept things smoothly going along. It was a small affair, but everybody was up dancing until the end, and everyone always raves about how great you sound. You singing Tiny Dancer for the father daughter dance gave our family a very special mamory of this wonderful day. Thank you.
Added on: 12/21/10

Stephanie & Michael Simpson
Paul -We cannot thank you enough for making our wedding the best night ever. From the second you started playing, the dance floor was packed! I can't tell you how many people have commented that you were the best wedding band they had ever heard. Even the stodgy bellhop at the ULC stopped my mom the next day to find out the name of your band and commented how fantastic you guys were. And, my dad, who is a tough critic in the music department, said that you were one of the most talented singers he has ever seen! I can't wait to show you all the pictures. No less than five of our unmarried friends have commented that they intend to book you when they get married. They better because we want see you guys again! Thanks, again. You are the best!Steph & Michael
Added on: 10/04/10

Sara and Brendan Whelton
Thank you! Thank you! Thank you! What an amazing job! Our guests keep commenting on how wonderful the band was for our wedding! We couldn't have been happier with you!! You made our night perfect! There were people dancing until the very end of the night! You did a phenomenal job with our first dance song. Thanks for taking the time to learn the song! We are so happy that we found you, and we will definitely let everyone know how awesome you are, and how satisfied we were with our experience with you and your band. From the first time we met, you always let me know that we had nothing to worry about when it came to the music for our wedding. You were right!! What a wonderful job! Thank you!!!! Sara and Brendan Whelton
Added on: 11/01/09

Mike and Betsy
Hi, Paul! Mike and I just wanted to let you know how grateful we are for the fabulous entertainment you provided at our wedding! We have received more compliments about you guys..."best band ever" seems to be the common quote! People were actually dancing on the carpet around the dance floor because there wasn't enough room for them...even at midnight! Muchos gracias!-Mike and Betsy Binsfeld
Added on: 09/15/09

Kelly Padjen
Paul and Company, We can't thank you enough for the wonderful entertainment you provided at our wedding! It was great getting to know Paul and was such a pleasure to work with. Even 3 months later we're STILL getting compliments on the music. Thanks again, it truly made the evening that much better...and the dance floor was packed all night!Kelly and Mark Padjen
Added on: 09/11/09

Sarah Baum
Paul ~ Back in town from the honeymoon & done with [most of] the wedding craziness --- but wanted to shoot you a quick hello and a HUGE THANK YOU for your amazing entertainment at our wedding on the 17th!!!! It was absolutely FANTABULOUS! And so glad we got a videographer because I get to hear all your songs again! Man, what a crazy group of folks we had... the dance floor should have been bigger!!! I have never seen a dance floor get so packed so quick. I know I am bias, but that was seriously the BEST WEDDING EVER!!!! How could that one be topped? :0) You got everyone up there with your tunes --- the key [I think] to a great party!!!!! That 1st Dance with my hubby --- RAY Lamontagne --- AMAZING! You should have that on your song list! It was perfect!And the Toora Loora went off great w/ my dad --- then into Somewhere Beyond the Sea... what a dance... We didn't even practice!!! What fun memories. Thank you for making our night so memorable & so much fun. Although I am sorry that we never got to meet or at least shake hands --- I do remember pointing to you a couple times --- haha... but I feel like I've known you for years!!! :0) All the guests have sung your praises (no pun intended :0) --- best band --- sounded like a recording --- great tunes --- AND one of our guests have asked about you for another event next summer, and will be sure to pass along your email & website with the greatest of compliments. Thank you so very much and hope I get to see you perform again soon!!!Sarah Baum [still not used to that!]
Added on: 07/30/09

Ashley and Mark Larson
Hi Paul!We just wanted to thank you so much for the wonderful job that you andyour band did at our wedding! We have had so many people tell us thatyou were the best band they had ever heard at a wedding, and we wouldmost definitely agree! Thank you for learning our first dance song andfor doing everything that we asked of you! You helped make ourwedding so much fun...the dance floor was full the entire night! Itwas so nice to work with you and we really appreciate everything. Wewill be sure to recommend you to anyone we know that is looking for aband!Take Care,Ashley and Mark Larson
Added on: 06/26/09